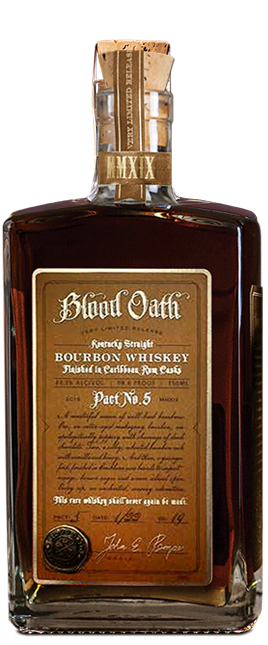 This rare whiskey shall never again be made.
Every batch of Blood Oath is the undertaking of one man - John Rempe - a student of both bourbon and science.
This bourbon connoisseur has one goal in mind – to seek out bourbons rare and wonderful, famous and forgotten, then bottle them in combinations previously unimagined for a lucky few.
Loose lips never tasted something so special.
BLOOD OATH
Pact No. 5
Blood Oath Pact 5 is a masterful union of three well-bred bourbons. One, a 13-year mahogany bourbon, un‑apologetically peppery with shavings of dark chocolate. Two, an 11-year silky, wheated bourbon rich with vanilla and honey. And three, an 8-year find, finished in Caribbean rum barrels to impart orange, brown sugar and warm island spice. Every sip, an uncharted, sensory adventure.
INGREDIENTS
Corn, wheat, rye, and barley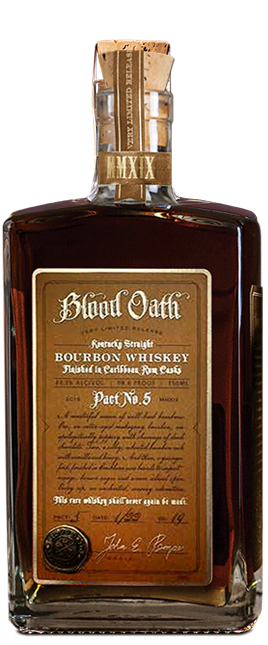 TASTING NOTES
---

AROMA
Sweet, vanilla and brown sugar, hints of dark rum.
---

PALATE
Sweet dark rum notes, vanilla, carmalized sugar, dark fruit.
---

FINISH
A long finish with hints of brown sugar and raisins.
BLOOD OATH
Pact No. 4
Blood Oath Pact 4 is a masterful union of three well-bred bourbons. The first, an extra-aged-12-year-old bourbon. The second, a rich 10-year-old-bourbon. The third, a 9-year-old bourbon finished in toasted barrels.
INGREDIENTS
Corn, rye, and barley


TASTING NOTES
---

AROMA
Caramel and strong oak, backed up with rich vanilla and chocolate
---

PALATE
Rich caramel, honey and spicy oak, followed with smooth vanilla and warm chocolate undertones from the toasted barrels
---

FINISH
Robust spice followed by ultra-smooth finish, with lasting caramel, vanilla and oak
BLOOD OATH
Whiskey Locator